Iaroslav Fedoryshyn – Artistic and managing director of the Theatre. Director of the International Theatre Festival "Golden Lion". Graduated from I. Kotliarevskyi Kharkiv Theatre Institute in 1976, Moscow Institute of Theatrical Arts in 1990 and Warsaw Cinema School in 1991 (the class of Krzysztof Zanussi). In 1990 he founded Lviv Theatre Voskresinnia, and in 1992 he initiated International Theatre Festival "Golden Lion", which is at present a member of the International European Theatre Meeting (IETM) and International Festivals and Evens Association (IFEA) . He has directed productions in other cities of Ukraine, Poland, Russia, England. Producer numerous street shows and festivals dedicated to important events in the life of the city of Lviv. The active participant and consultant of local and state departments of the government. Awarded the distinguished title of activist art of Ukraine by President Victor Yushchenko.
---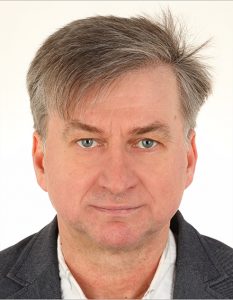 Krzysztof Dubiel – Manager, producer, promoter, theatre director. Honorary member of The Royal British Legion in Scotland. Graduate School of Culture Managers of the Centre for Contemporary Art Market Research and the Adam Mickiewicz University in Poznan (Pl). Trained in "Arts International" Institute of International Education in New York (USA), Intern of Actors Theatre of Lousiville, Kentucky (USA); Deputy Director (1989- 1992), General Director (1992-1995) of The Cyprian Norwid Theatre in Jelenia Góra (Pl); 1989-1995 Organizing Director of the International Street Theatre Festivals in Jelenia Gora (Pl); 1990-2008 Director of International Street Theatre Festivals in Jedlina Zdroj (Pl); 1995-2005 co-worker and actor of KTO Theatre in Krakow (Poland); 1999 – 2003 The Bagatela Theatre in Krakow (Pl) Marketing Manager ; since 2003 – still – Producer the Kiev Street Theatre KET and Street Theatre Highlihts (Ukraine); (2005 – 2011) – the Julius Slowacki Theatre in Krakow Marketing Manager (Pl); 2010 -2013 Coordinator of The European project "21 century theatre. East meets West – West meest East"; 2014 -2016 proxy of the Director of the Juliusz Słowacki Theatre in Cracow; since 2003 Manager the Lviv Theatre Voskresinnia
---
Lviv Academic Theatre Voskresinnia
Lviv  79007,Gen. Grigorienko sq. 5 , Ukraine.
e-mail:  teatr@voskresinnia.eu
Registrations datas:
р/р 260014590, МФО 325268 , ЗКПО20791624
For booking information contact Manager
Office in Krakow (Poland)
mobile +48: 601 097 695
 fax +4812 262 00 15,
e-mail:  teatr@voskresinnia.eu