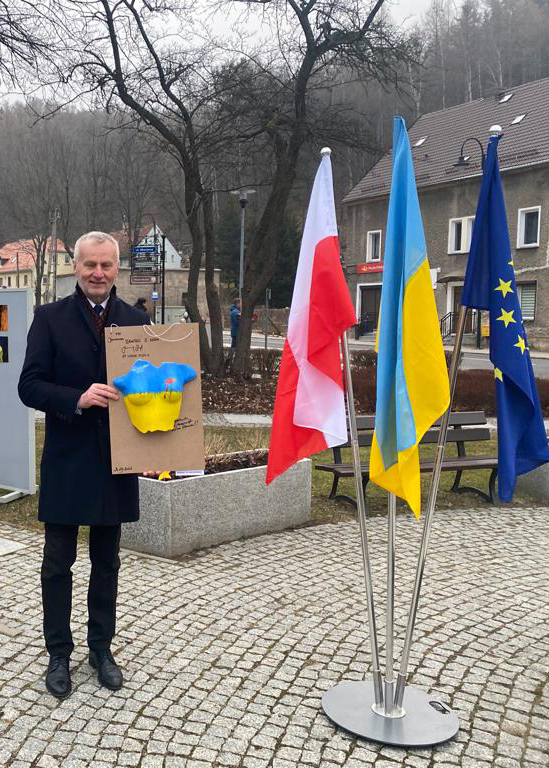 Lately, every word of thanks addressed to people who help us comes with tears of gratitude flowing into our eyes. On 27 February this year in Jedlina Zdrój (Poland), Mayor Leszek Orpel invited residents to Freedom Square and made a request: "Let's help the Voskresinnia Theatre. Let's be together with Ukraine". And when the sounds of the Polish and Ukrainian anthems fell silent, the people gathered around the symbol of the three pillars of power responded thunderously to the names of the theatre actors mentioned by the mayor: "we are with you!". On the background of the blue and yellow colours decorating the walls of the Town Hall, the collection of gifts and money (8200 PLN was donated) became an act of solidarity and support, and the inhabitants of Jedlina confirmed that they are people with big hearts. THANK YOU!
Thanks to the personal involvement of Mayor Leszek Orpel, employees of the Cultural Centre in Jedlina Zdrój and its Director Wiesław Zalas, the received beds, mattresses, blankets, sleeping bags, bedding, warm clothing, medicines, food, drinks and other necessary items set off from Jedlina Zdrój to Lviv on 2 March. In the early morning of 4 March, the gifts from Jedlina's inhabitants were collected at the Woskresinnia theatre. They will be used not only by theatre employees but also by refugees from eastern Ukraine who find a quiet place to stay, care and food at the theatre.
We received a lot of thunderous applause after the performances presented in the past in Jedlina Zdrój. They were a source of joyful satisfaction for us. Today we remain in Lviv with great gratitude and we dream that this year we will be able to bow down to the audience of Jedlina Zdroj.